Hello Graduates: Your graduation flash drives are ready. Directions: on Tuesday 7/13/21 go to the doors across from Mrs. Amela's room and go to room 17 where the SPED rooms are and get your flash drive from Ms.Scott. Please do not go near the breezeway or the upper building because Seismic construction is ongoing. Go Irish!


Riddle Irish Baseball Program Awards for the 2021 Season: Justin Jenks was voted "Most Valuable Player" unanimously by his teammates. The Douglas County coaches selected Justin to be on the All-League 2nd Team. Justin also won two awards for his play during the season: The "Top Offensive Player of the Year" for accumulating the most offensive production points and the "Top Base Running Award" for his very aggressive and successful base running. Zane DeGroot was given "Honorable Mention" by the Douglas County baseball coaches. Zane also won the "Bat Award" for consistently socking Riddle's hardest hit balls. He was the Riddle Team Captain. Konrad Pinch was voted the "Most Improved Player" by his teammates. Cauy Jackson received the "Best Throws Award" for strong and accurate throws. Rhyse Williams and Jackson Williams were co-winners of the "Glove Award" for making excellent catches while on defense. Neston Berlingeri was selected by his teammates as the "Most Inspirational Player." Riddle Letters were awarded to all of these award-winning players (listed above). Also receiving varsity letters for each being on the starting line-up one or more times were: Hunter Buchanan (senior); Kellen Canty and Chase Greer (juniors); Keith Gaskill, Tyler Jones, and Daykotae McAvoy (sophomores); and Wyatt Geiger and Tateum Peters (freshmen).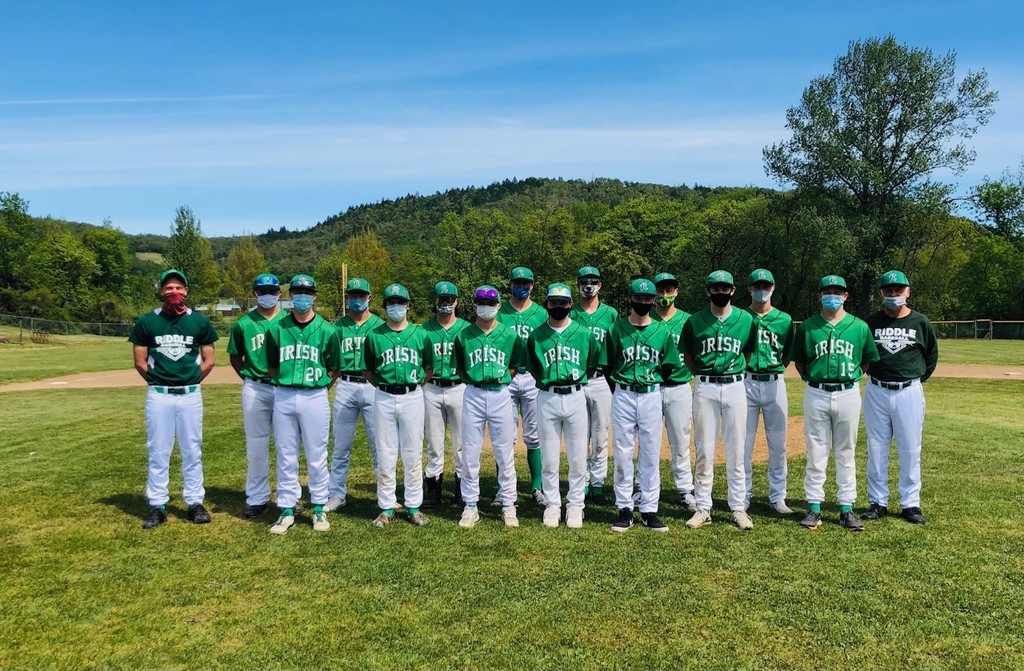 All junior/senior high school summer-school participants riding the bus should have received a call by now with times. If you need clarification, please call Bev Scott at 541-991-8291. We start our summer programs on Tuesday at 8 a.m.

Summer School for Riddle Jr./Sr. High School begins Tuesday, July 6, and will run through July 30 from 8 a.m. to 1 p.m. Tuesday through Friday. Summer school is all in-person (there is no distant learning option). Students need to be present to participate. More information to be provided next week.

Here is the updated calendar for Riddle School District for the 2021-2022 academic school year.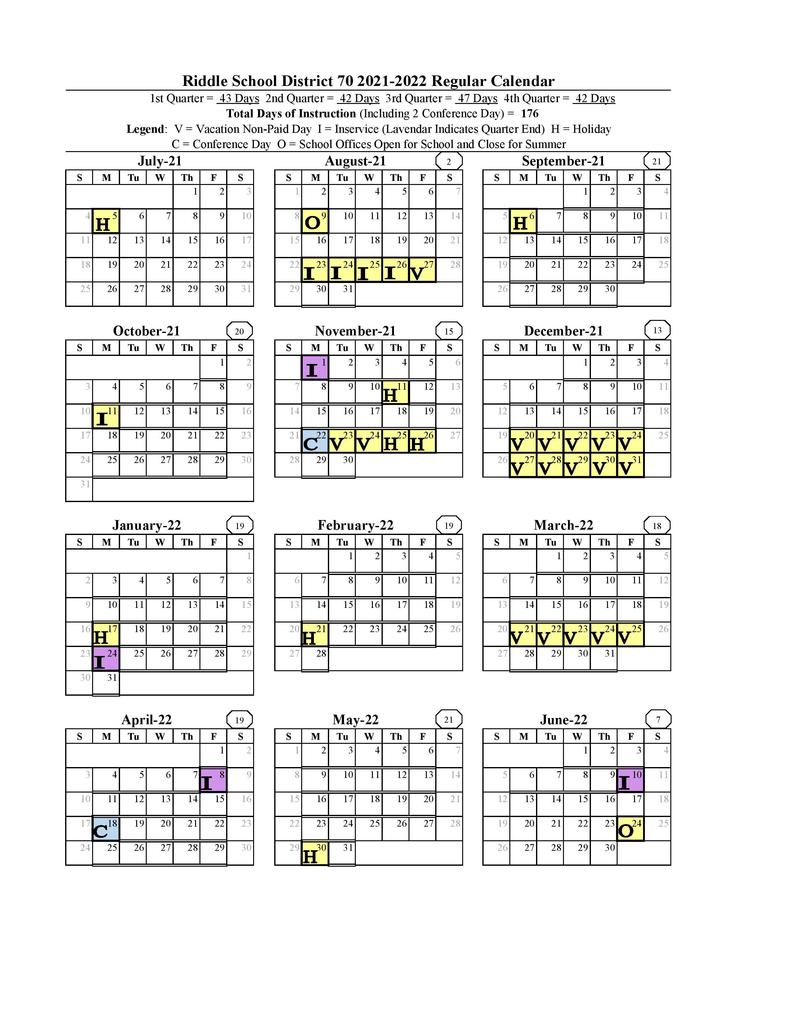 Here are the release times for students tomorrow, Thursday, June 17. RES students are being release at 11:20 a.m. RHS students will have a staggered release and check-outs may go faster than listed. Juniors: 10:30 a.m. Sophomores: 10:45 a.m. Freshman: 11 a.m. Eighth: 11:15 a.m. Seventh: 11:30 a.m. There is a junior high assembly at 10:20 a.m. RHS lunches will be provided to students once they have checked out.

Hello Riddle Irish! All Junior High and High School students need to turn in their Chromebooks by tomorrow at 11:30am. GO IRISH!

Hello Riddle Irish! On Tuesday 6/15 students will be doing Arena Scheduling in their check-in class at 8am so you can choose your classes for next year. On Wednesday 6/16 all Chromebooks in-person and Distance Learners will be checked-in starting at Noon. GO IRISH!

Congratulations Seniors! We will miss you. Remember, if you ever need our help or have any questions, we will be here for you. Once you are part of The Order of the Riddle Irish, you will always have family here.

Hello Riddle Seniors! Reminder, there will be senior citizen and handicapped parking in front of the baseball field. Thank you. Go Irish!

Hello Riddle Jr./Sr. High School students! All Chromebooks need to be checked-in by Wednesday June 16th between the hours of 8am-3:30pm. This goes for ALL students except seniors. Thank you and GO IRISH!

Hello Riddle Walking Seniors! Change! Report to the office at 10am and remember to wear something nice. Also, remember to bring your Chromebook to check in! Thank you Seniors!


Hello Riddle Irish. Those students on quarantine are eligible to be back at school tomorrow 6/9 with the exception of the basketball team that can return on 6/10. GO IRISH!

The team picture for the Junior High Boys Basketball Team is Wednesday, June 9, at 2:15 p.m. in the high school gym. Each athlete should bring his CLEAN uniform to change into. However, make certain to have an extra change of clothes. Once pictures are completed, uniforms are being turned in to Coach Klaessy.

Just a reminder that cheer tryouts for Riddle Jr./Sr. High School begins today, Tuesday, and runs through Thursday from 3:30 to 5:30 p.m. in the RES gym. If you have any questions, reach out to Coach Mercedes at
mmcleod@riddle.k12.or.us
or call 541-874-2226. Tryouts are for all students who will be in 7th through 12th grade for the 2021-2022 school year.

Hello Graduating Seniors who are walking. We will be meeting in the gym tomorrow at 10am. The Elementary Parade is a go. See you then. GO IRISH!

Hello Riddle Irish. For those 7th and 8th graders who were quarantined; you are able to return tomorrow June 8th! We cannot wait to see you. GO IRISH!